NRF Gender Equity Charter 2023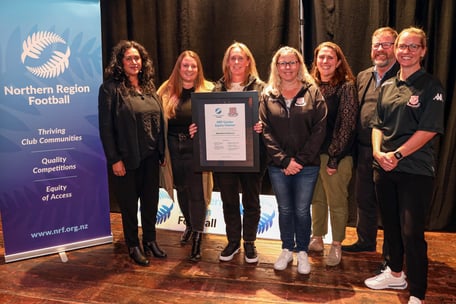 Birkenhead United has signed the NRF Gender Equity Charter, a key step to a more inclusive club.
The Charter emerged from a working group focused on how do we make the most of the FIFA WWC 2023 opportunity to create a lasting legacy for the tournament.
We're partnering with Northern Region Football to commit to making our club more inclusive. This is part of our undertaking with Tātaki Auckland Unlimited as a FIFA Women's World Cup 2023 team base, so that we create a lasting legacy not only in infrastructure, but in more opportunities for women and girls in our club.
We believe demonstrating our commitment to girls and women's football is the right thing to do to grow our club in a sustainable and diverse way.
"By signing the NRF Gender Equity Charter, Birkenhead United is taking a strong step forward in promoting gender equity within our club. We are excited to embark on this journey of positive change, working together to ensure that every member feels valued and included. We understand that there is still much work to be done, but we are determined to measure our progress, identify areas for improvement, and take the necessary steps to create a truly equitable and thriving football community."
There's plenty of work to do - this process helps measure what's going well, what needs work and the steps we need to take to get there.
The Charter work focuses on these areas:
Leadership - Leadership and governance that reflects and supports gender equity
Participation - Equitable participation and development opportunities, including juniors and youth girls-only football
Visibility - Make girls and women visible, showing their value in our club
Resources - Equitable resources and opportunities for girls and women
Facilities - Fit for purpose facilities that meet the specific needs of girls and women in our club
We're excited to get started - you can find out more about the Charter at NRF's website, and if you have any questions, please get in touch with media@buafc.org.nz